please scroll down for english version
I see U no. 2

Eine getanzte Installation von Ilona Pászthy
Teil 2 der Reihe "Privates wird öffentlich, Öffentliches wird privat"
   Trailer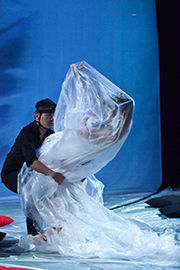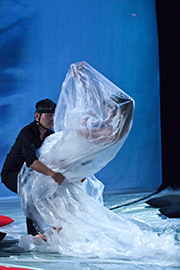 Was bedeutet Privatheit im Zeitalter von Web 2.0?
In diesem Teil der Trilogie findet ein Teil der Vorstellung in der Kölner Innenstadt ( u.a. im FILOS in der Südstadt) statt, der andere im Theaterraum von Barnes Crossing. Via Internet verbinden sich live der Theaterraum und der öffentliche Raum. Interaktiv verweben sich beide Orte, beide Geschichten, die Tänzer und das Publikum gehen gemeinsam auf eine virtuelle Reise, in der die Grenzen im Spannungsfeld zwischen .Betrachtung, Überwachung und
Voyeurismus verschwimmen. Welcher Raum dringt wann in den anderen ein? Gibt es einen wirklich privaten Raum mitten im öffentlichen Raum?
Die Performance wird in Teilen auch live im Internet mitzuerleben sein unter: www.ip-tanz-live.com <http://www.ip-tanz-live.com/
Die Reihe "I see U" betrachtet Aspekte der Kommunikation unserer Zeit und die daraus resultierenden Veränderungen im sozialen Gefüge, der Focus der Reihe ist die Suche nach innovativer Nutzung medialer Mittel auf der Bühne.
Presseclips: …Clever vermengt Ilona Pászthy reales Geschehen und die vielen Perspektiven der überall im Raum verteilten Videokameras. Man könnte die Orientierung verlieren, wähnte sich eben noch auf komfortablen Voyeursposten und ist doch selbst Objekt der Überwachung. Die Choreographie ist schroff, wütende Attackentänze, nervös-überreizte Körper, als wollten die Tänzer die Blicke abwehren. Doch die Kameras sind schamlos. Sie bleiben dran, So zeigt Ilona Pászthys Tanzinstallation eindrucksvoll, wie eine Verlockung zur Tyrannei werden kann, wenn nichts mehr privat ist, nichts mehr öffentlich. (Auszug
aus Kölner Stadt Anzeiger/27.8.2010)
…Ein ungewöhnliches Pas de deux mit einem Paar unter einer transparenten Zellophanhaut. während man durch die Folie die Hautpartien der Akteure sehen konnte, lieferten kleine Kameras, die sei auf der Stirn montiert trugen, Bilder aus dem Nahbereich des Körpers. Das beste Bild des Abends, weil in ihm treffend deutlich wurde, dass sich Privatheit und Voyeurismus auflösen, wenn die Nähe zu groß ist. Ohne Distanz sind beide Zustände nicht mehr herstellbar….
(aus Kölnische Rundschau, 25.8.2010)
I see U no. 2
the second part of her trilogy by IPtanz
Ilona Pászthy's new play is the second part of her trilogy and deals with the topic "reversal of public domain and privacy".
The performance occus within the rooms of the venue of the choreographical network Barnes Crossing at the Wachsfabrik in Köln Rodenkirchen as well as in public spaces within the city of Cologne. All venues are connected via internet, a perspective of the events in public space will be broadcast live into the theatre venue and vice versa.
Where can you influence what becomes public and where are the firm boundaries of private space set? Is there a private zone in public space? What does private zone mean at least?
As it is also the case with the other installments in Ilona Paszthy's trilogy, the audience is going to witness one part of the whole performance live and the other via broadcast either inside or outside the theatre.
This second part of the series "I see U" focuses on the look, be it voluntarily or involuntarily, at private life, as well as on the question what privacy might mean in the days of web 2.0. Parts of the performance will be broadcast live on the internet. The setting is adaptable to other venues and cities.
press
…Clever Ilona Pászthy mixes reality and the variety of perspectives of the cameras installed all around in the space. one could get lost, considering oneself beiin an observer in a save position, suddenly being a victim of observation. The choreogaphy is rough, furious attacking dances,  nervously overwrought bodies, as if the dancers would defense the views. Butt he cameras are shameless, they hold the line. impressively Ilona Pászthys dance installation shows how seduction can become tyranny, when nothing is private anymore and nothing stays public. (releas of Kölner Stadt Anzeiger/27.8.2010)
…an exceptional pas de deux with a couple covered by a transparent skin of cillophane. Parts of their skin are visible through the foil. Meantime small camreas connected at the forehead of the dancers, provide close up´s of the body. The best image of the evening, because it showed up tellingly, that privacy and voyeurism dissolve by too much closeness. Without distance both states are not contrivable anymore….(aus Kölnische Rundschau, 25.8.2010)
choreographie, concept: Ilona Pászthy
performer: Olaf Reinecke, Paula Scherf, Marcelo Omine
live streaming / videoinstallation: André Lehnert
musik: Marcus Greiner,
dramaturgie: Daniel Rademacher
stage design: miegL
communication: Alexandra Schmidt
produktionsassistenz: Barbara Keusch
supported by: Kulturamt der Stadt Köln, Land NRW, Kunststiftung NRW, SK Stiftung Köln
coproduced by Kulturbüro Krefeld / Fabrik Heeder, Barnes Crossing, Choreographennetzwerk in der Wachsfabrik, FILOS